Choosing a Dehydrator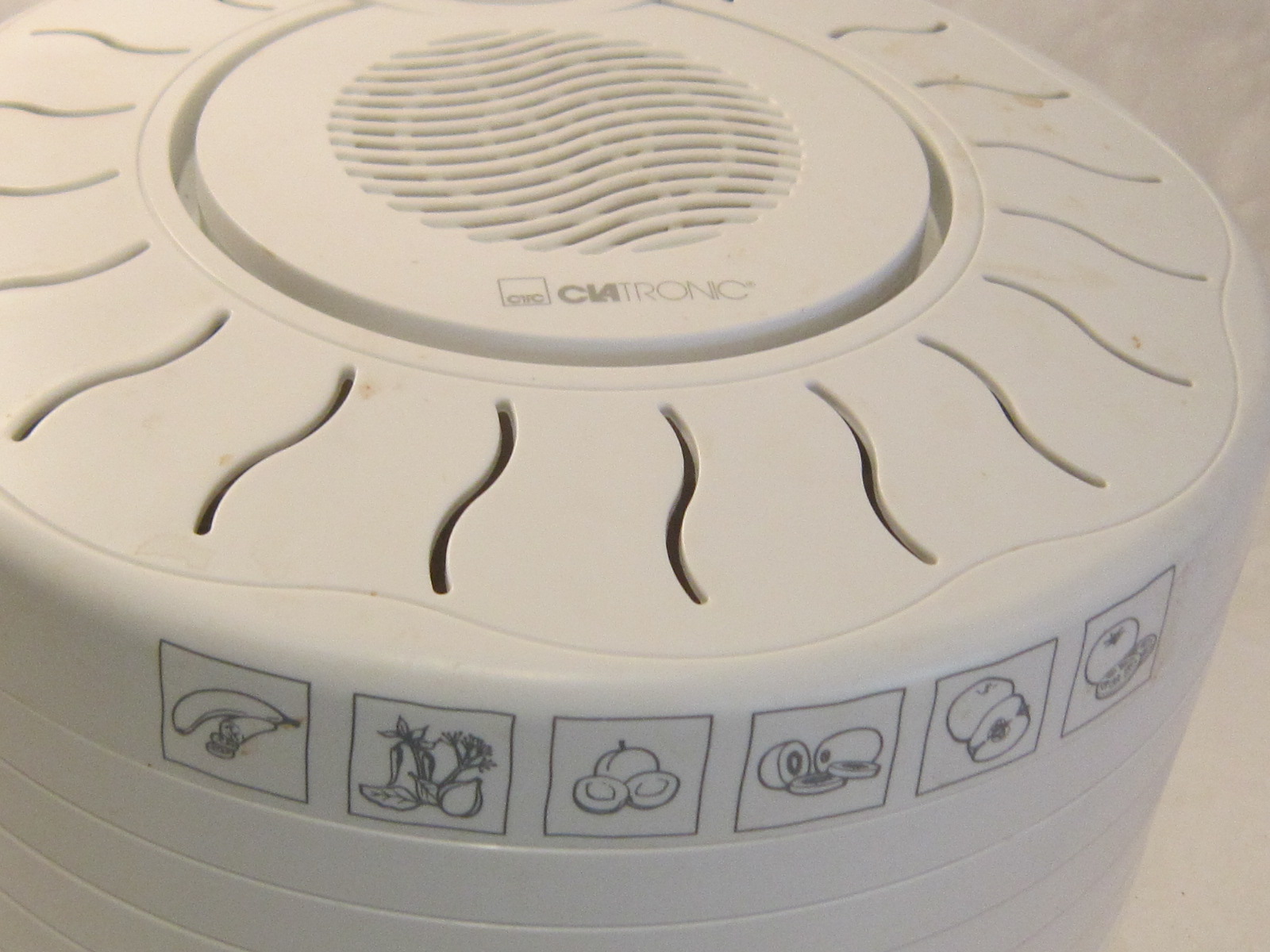 If you are considering buying a dehydrator, there are a number of makes of available.
Dehydrator prices range from £25 up to almost £2,000 but for home use you can buy an economy model for under £40 and a top of the range domestic model for under £500.
If you are just starting out with dehydrating, my personal advice is to start with an inexpensive one and see whether it is something you are likely to use more in the future. If so you can then upgrade to a more expensive one. I did this and it has worked out well. I still use both! 😉
Dehydrator Features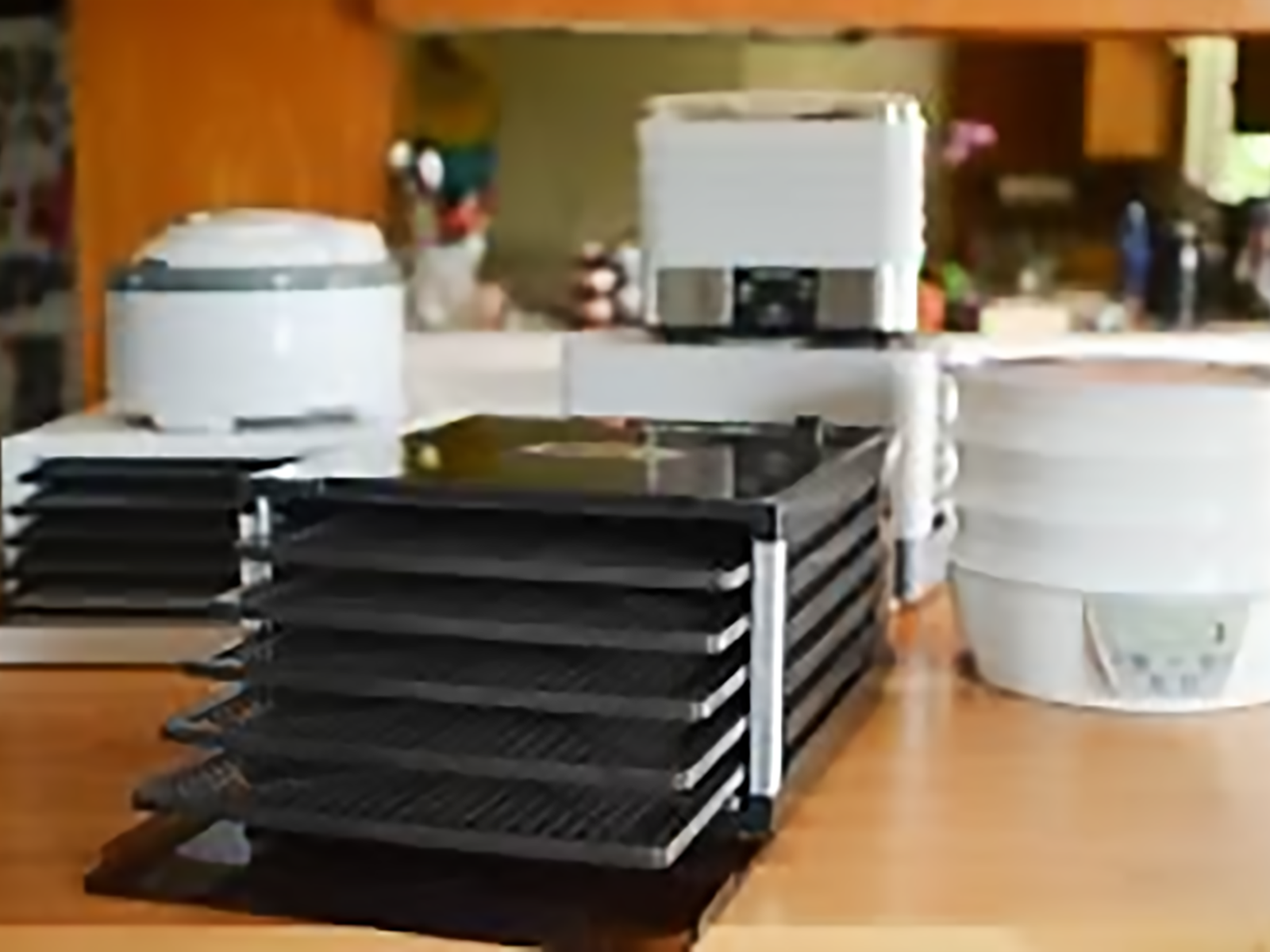 The main features to look out for when planning on buying a dehydrator are:
Position of fan/heat emitter
Temperature control
Timer
Number of trays
Arrangement of trays
Shape and colour
 Position of Fan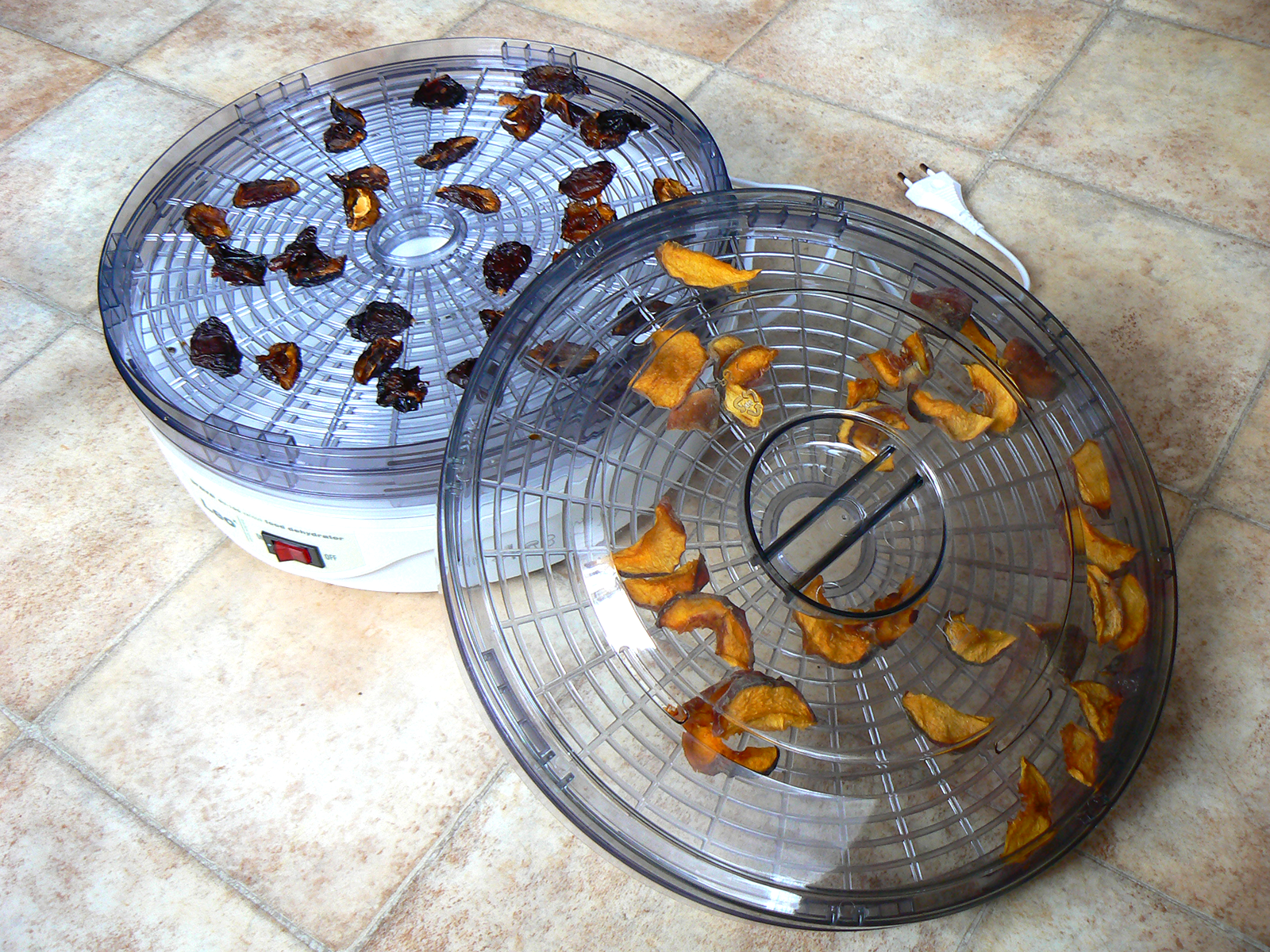 This can be either at the side (horizontal air flow), or on the top or bottom (vertical air flow). If it's at the bottom there is a danger of moisture dripping on to the motor and causing damage.
A back mounted fan results in greater drying efficiency.
Temperature Control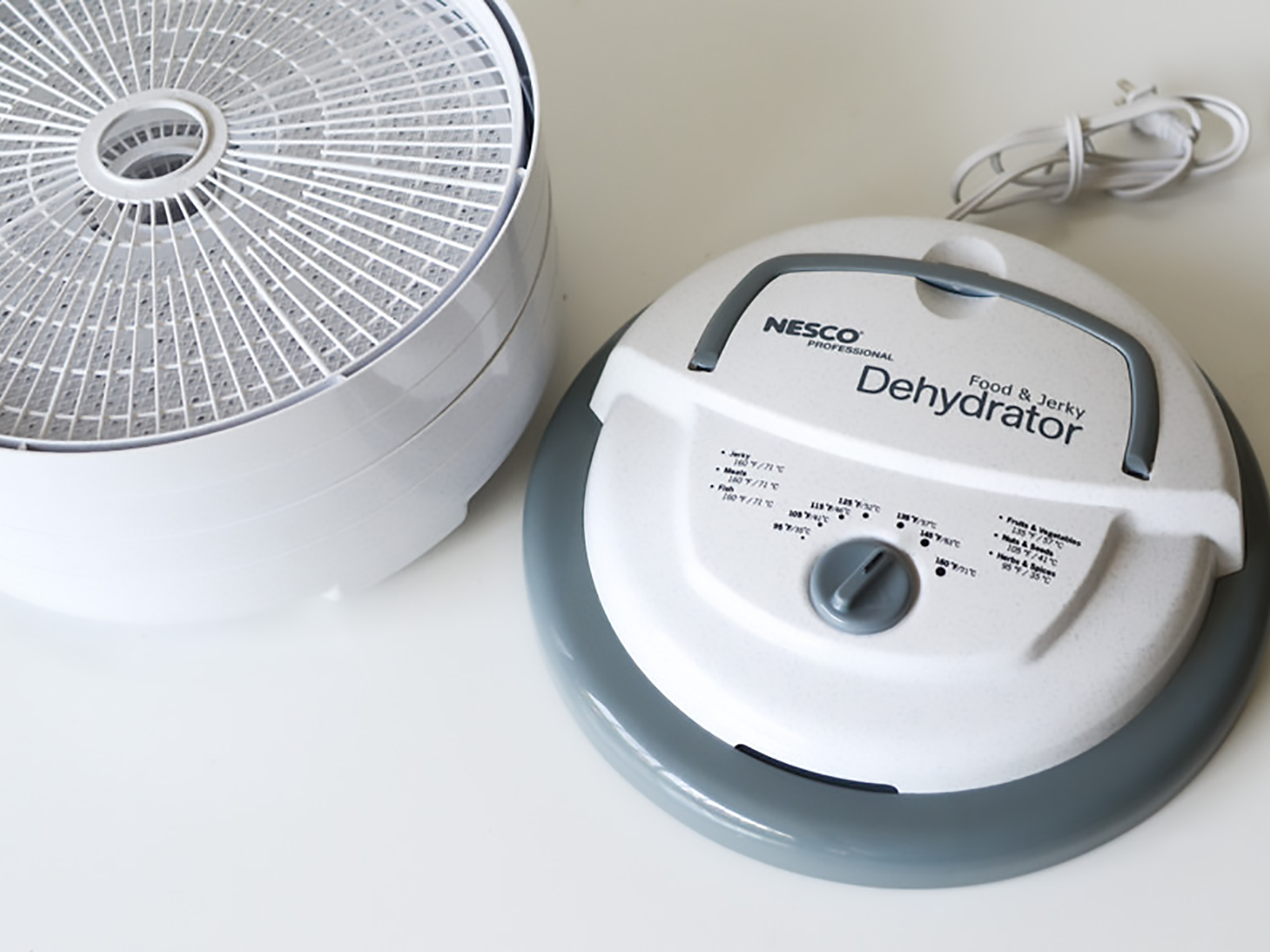 Having a temperature control is not essential but it is a useful feature because different foods dehydrate better at different temperatures. The Clatronic has no temperature control and though I used it initially to dehydrate most fruit and vegetables successfully, I have found that it is not as effective as the Excalibur for dehydrating anything that takes more than 6 hours. It's perfect however for low moisture food like kale, and for herbs and flowers which don't need more than 6 hours to dry out. The Excalibur on the other hand has a temperature control so I can set it to any temperature between 80 and 150 F depending on what my requirements are.
Timer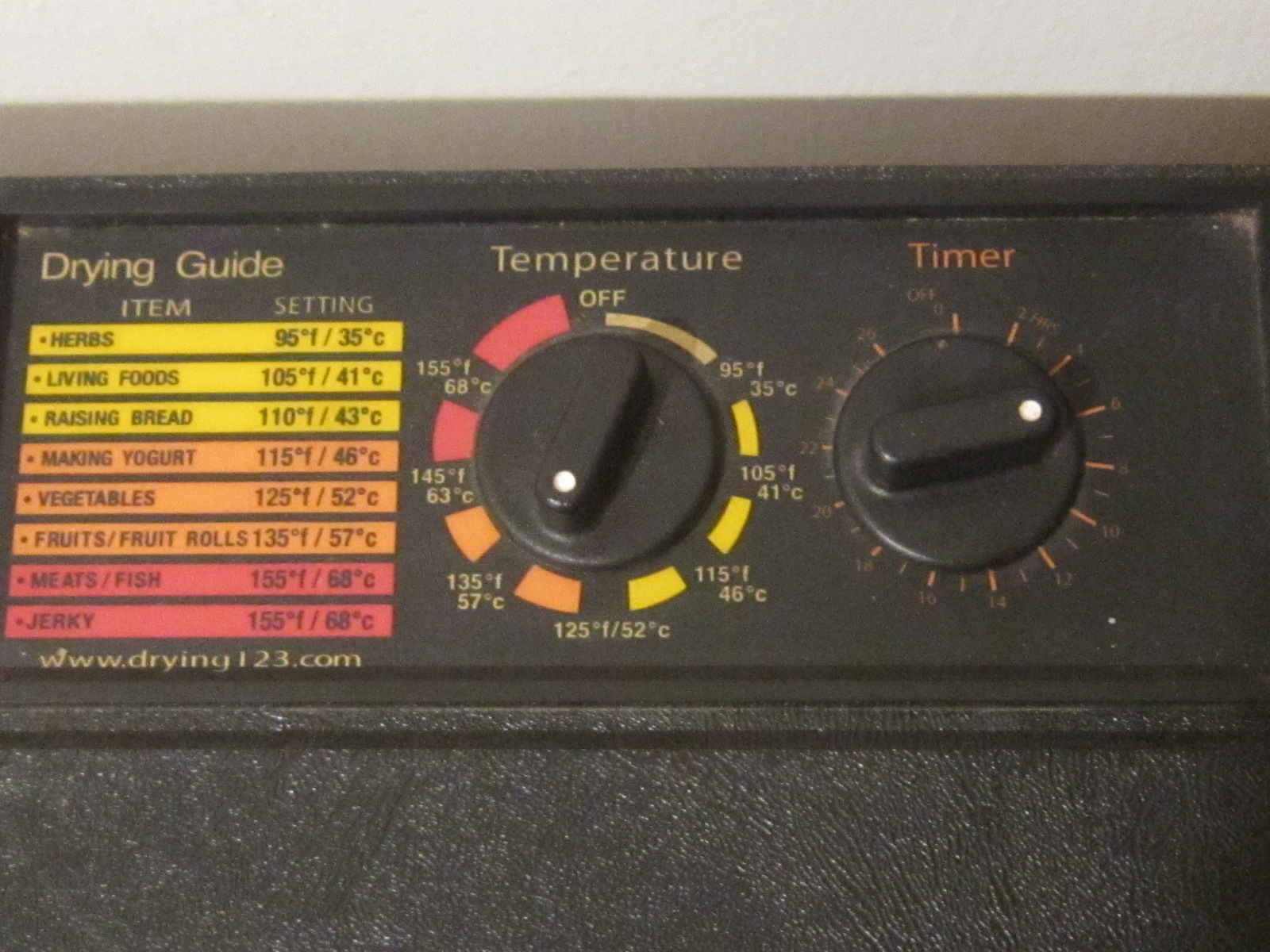 A timer is a good feature if you want to be able to dehydrate over night or when you are away from the house. You still need to check periodically but it prevents over drying and damaging your food.
Number of trays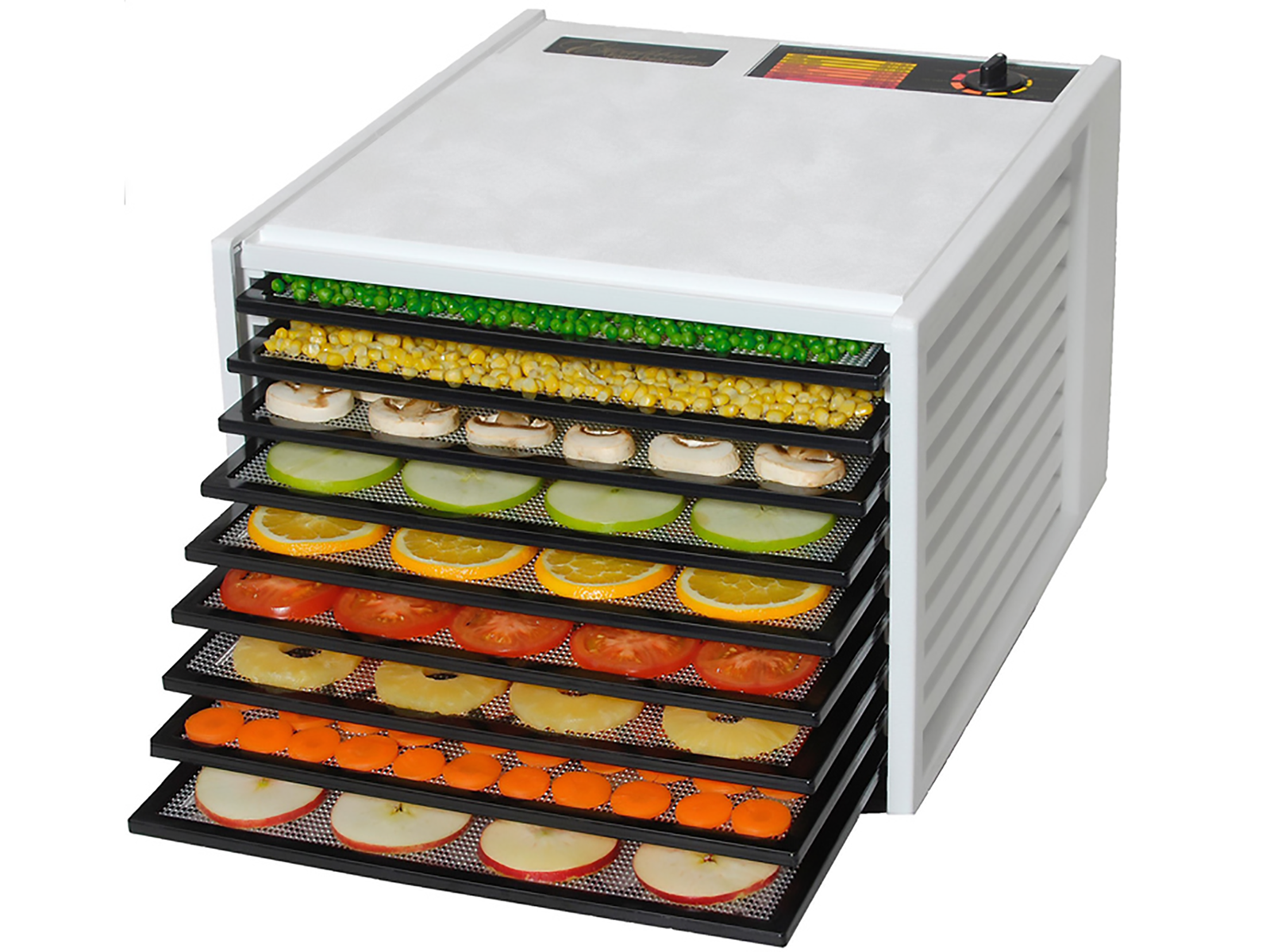 There are some dehydrators with a fixed number of trays (like the Excaliber), and some to which additional trays can be added (like the Nesco). My personal take on this is that increasing the number of trays beyond a certain point could impact on the speed and temperature when dehydrating. I would be more inclined to buy another dehydrator should I need to increase the quantity of dehydrating I need to do.
Arrangement of trays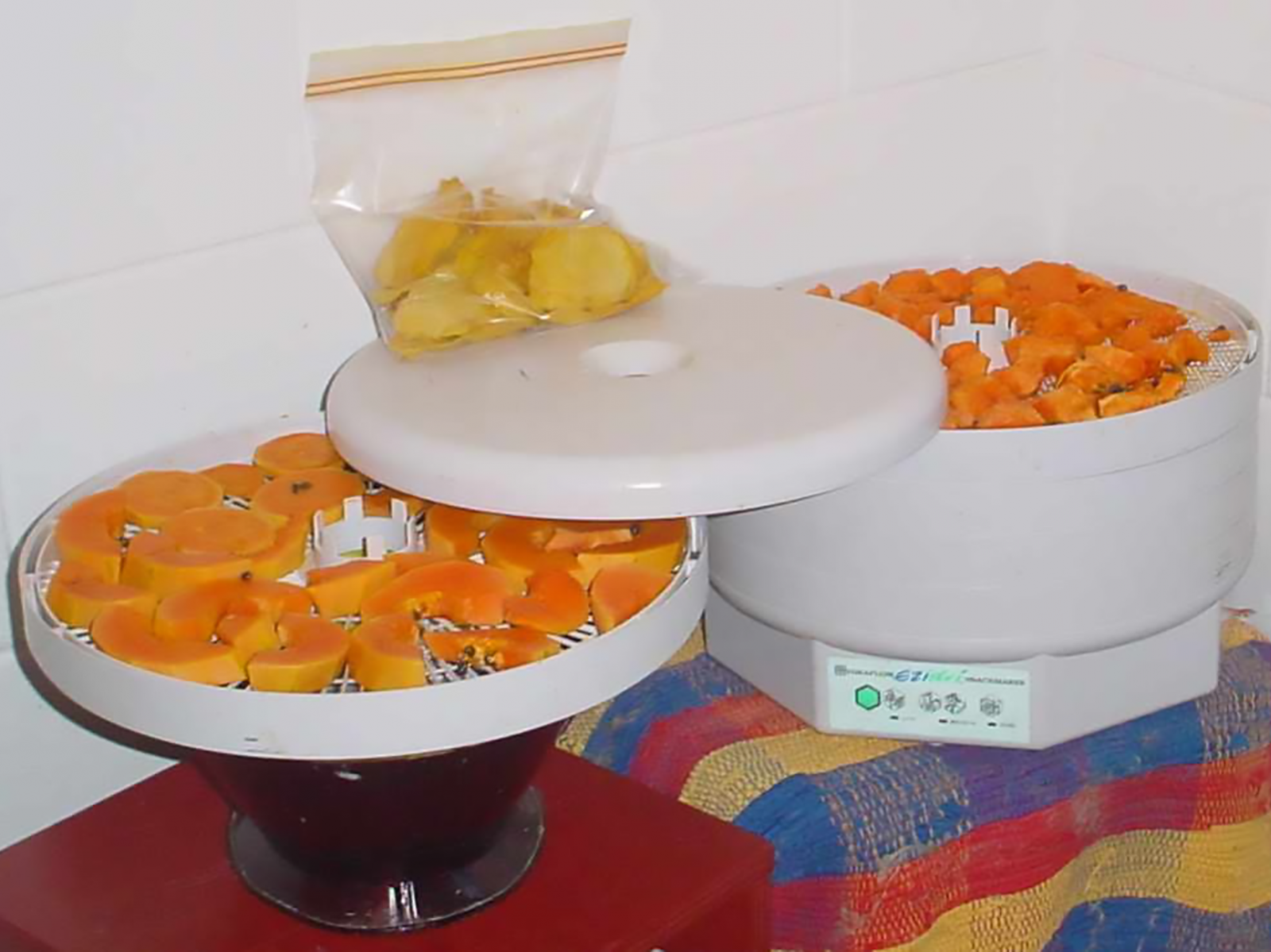 There are three possible arrangements available for dehydrator trays. These are stackable, hinged or sliding.
Stackable trays (like the Clatronic) allow for a variation in the number of trays being used. This is useful if you are only drying a few items as you can run the dehydrator with just one or two trays. The downside is that the height available on each tray is fixed – creating a problem for drying any bulky items.
Hinged trays are probably the least versatile as both the number of trays in use and the height between trays is fixed.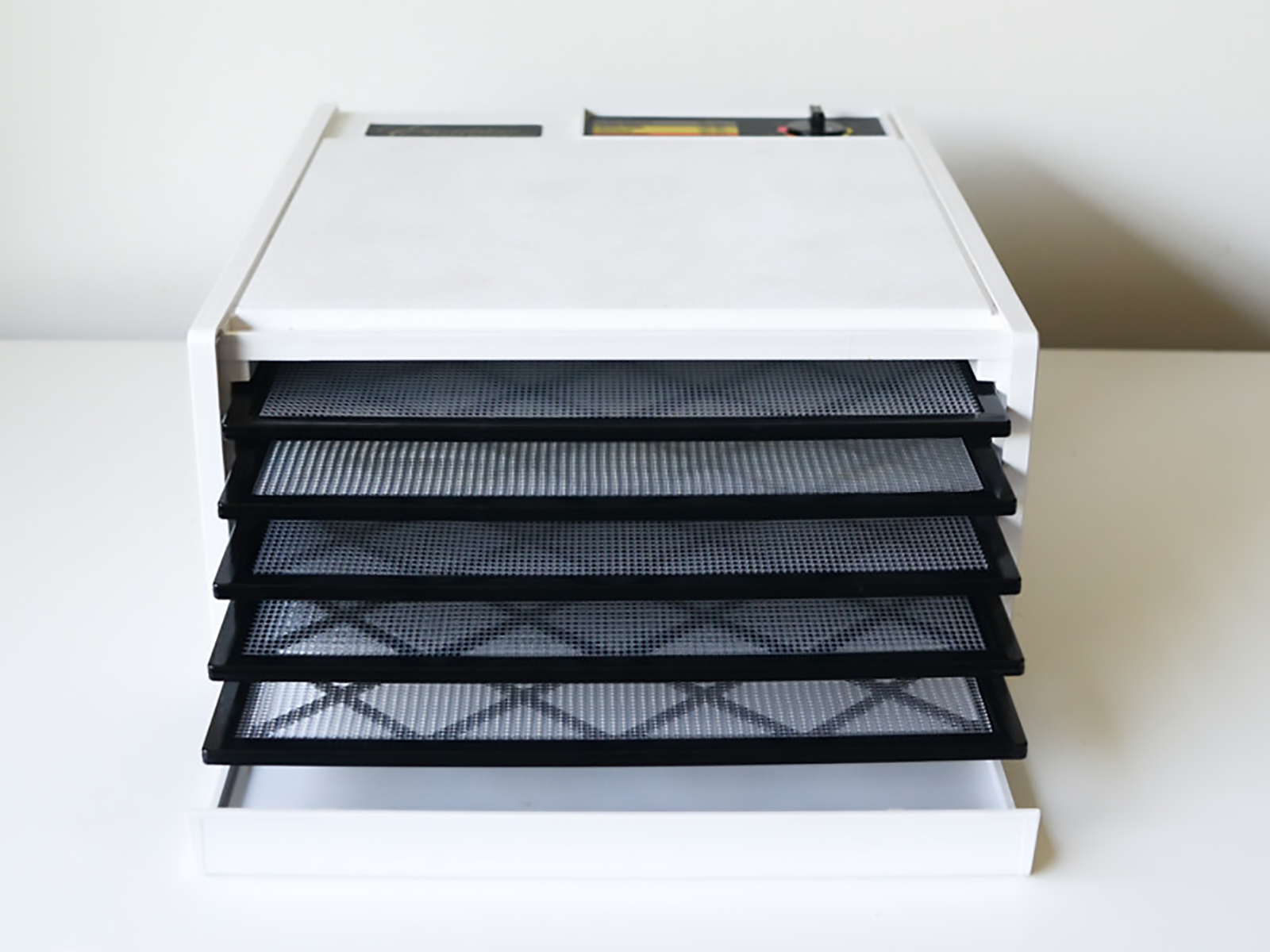 Sliding trays (like the excaliber) are great for drying bulky items as the height can be adjusted by simply removing trays where needed. Although it is possible to run this type of dehydrator with only a couple of trays, I usually use my small dehydrator for smaller quantities.
Shape, Size and Colour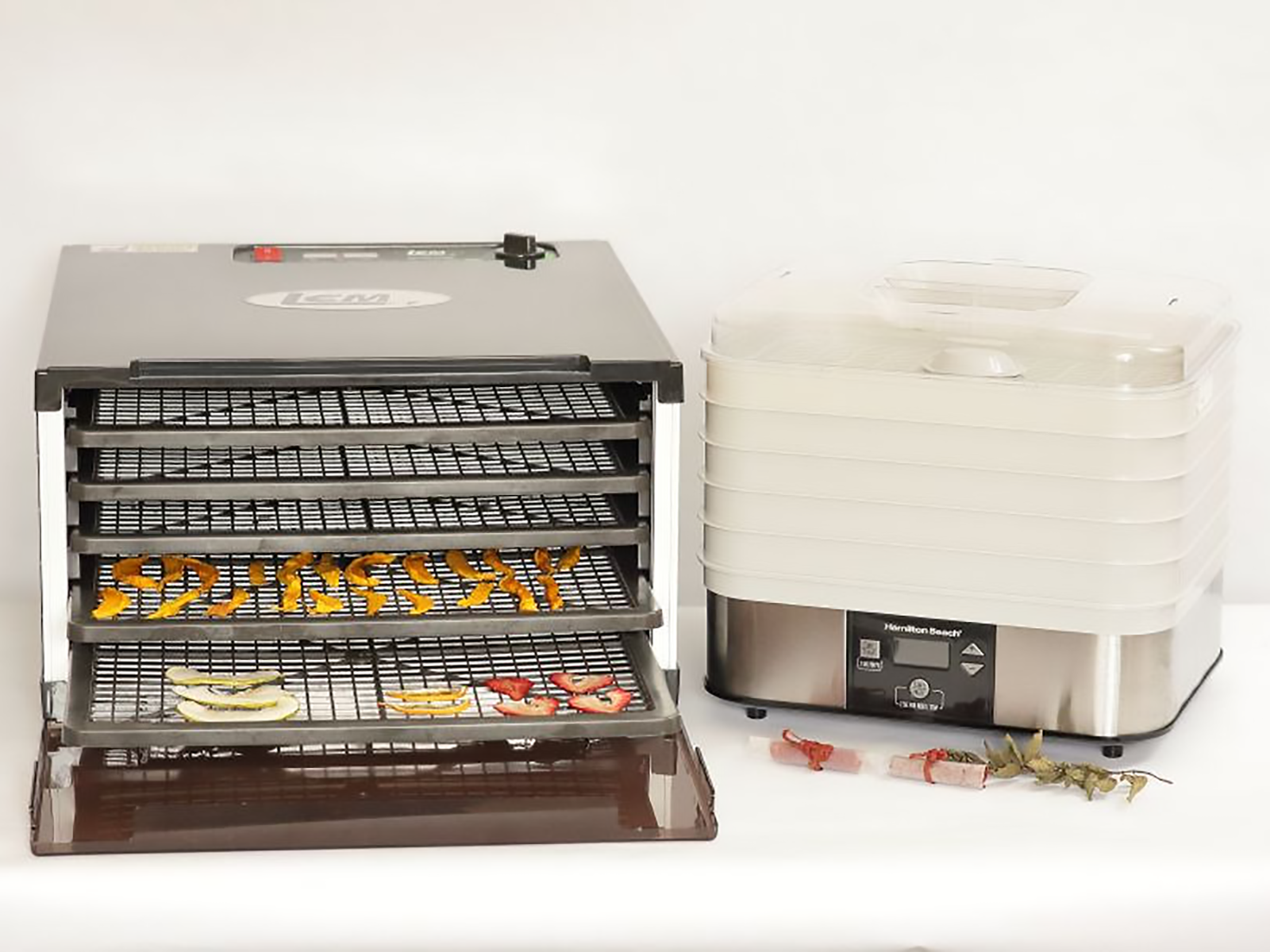 So far I have only seen stainless steel, white or black dehydrators. Perhaps one day a manufacturer will make them in colours to co-ordinate with our kitchen colour schemes 😉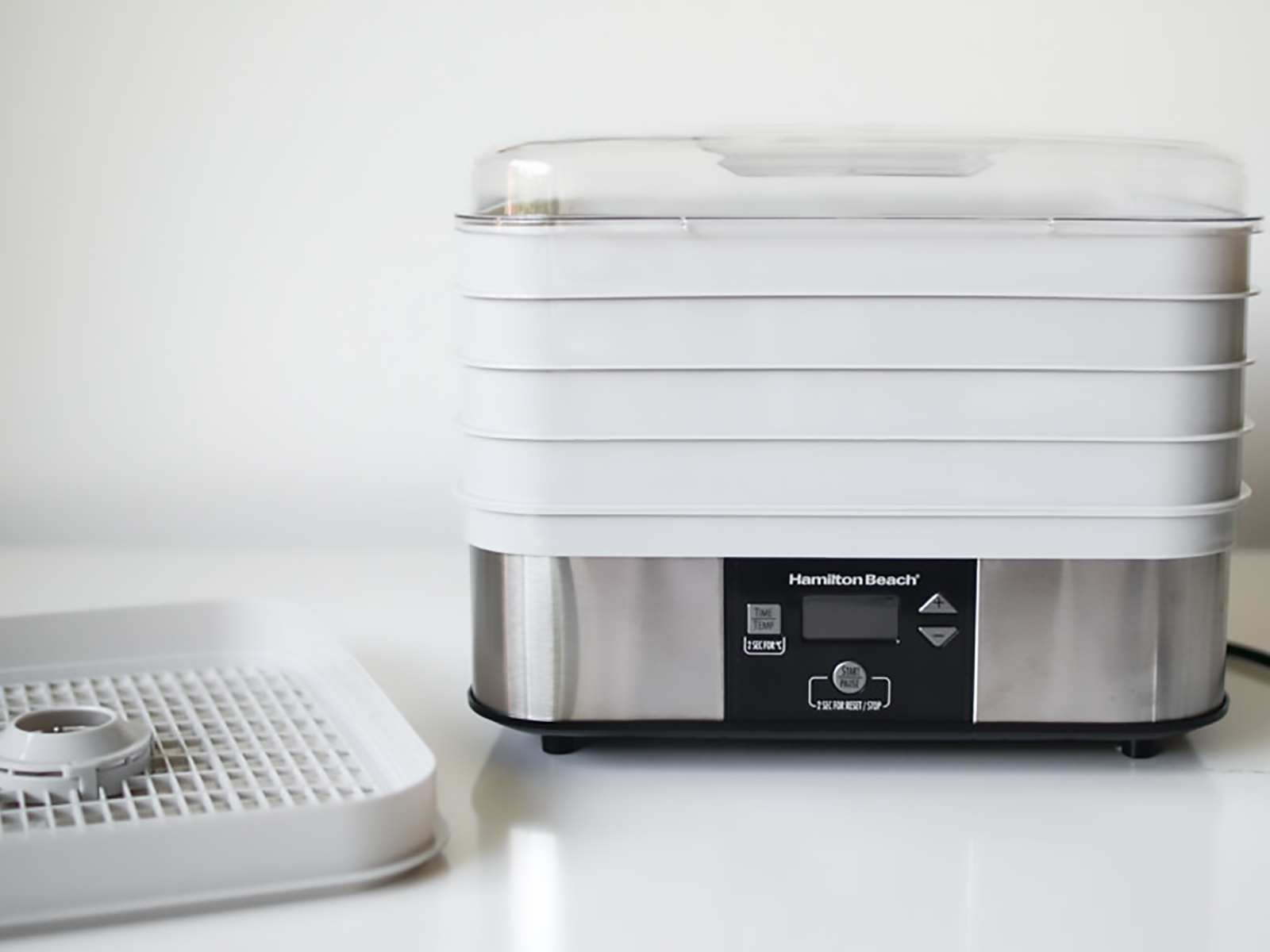 Square, oblong and round shapes are available. I have found little difference in useable space between the circular and square shapes, but for fruit leather the square shape with a side positioned fan is definitely better as there is no central hole to work around.
Sizes vary from small circular to the large square models like the Excalibur.
Conclusion
If you are a novice dehydrator, look for a low priced model with both a timer and a temperature control.
If you are already have some experience in dehydrating and want to upgrade I would look at the larger Excalibur range.
Think about whether your dehydrator will remain on your counter, be stored in a cupboard or be kept in another room, as this will determine the size and shape you choose.
Below is a selection of dehydrators available on Amazon.es
I currently use these two and can reccomend them:
Clatronic DR 2751 DEHYDRATOR – an economy model suitable for small scale domestic use (current price around £30)
Excalibur Model 4926T 9 tray- For intensive dehydrating (current price around £400)
Currently on Amazon UK there is a great deal available that has had some good reviews. If you are new to dehydrating this would be a sensible start:
---
---