Dehydrating kale is a rewarding exercise as it has so many health benefits in concentrated form. Kale powder contains all the nutrition of fresh kale, and is one of the easiest powders to make. By making kale into a powder you can quickly add it to many foods, thereby conveniently improving your nutritional intake.
Kale Powder Info

Fresh Weight
100 Grams
Dried Weight
14 Grams
Powder 10 gms
1 teaspoon
Daily portion powder
5 teaspoons

Health Benefits

Good for eyesight, lowers cholesterol, helps with depression, fights cancer, keeps heart healthy, good for weight loss
Uses for Kale Powder
Sprinkle on pasta
Decorate meals for that gourmet look
Add to salad for additional nutrition
Add to smoothies
Sprinkle on soup
Make your own Green powder mix
Sprinkle into sauces
Add to other cooked dishes
MAKING THE POWDER
You will need the following equipment:
A coffee grinder
Small paintbrush
Plastic funnel (see my tip at the end of this post)
Glass storage bottle
Follow my directions for dehydrating kale if you have not yet prepared any dried leaves. The dehydrated kale should be crisp to the touch. First crush into flakes.
Add the kale flakes to the grinder bowl.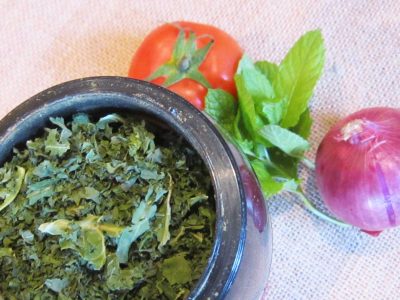 Grind the dried kale flakes to a powder. a count of 10 is usually enough to create a fine powder.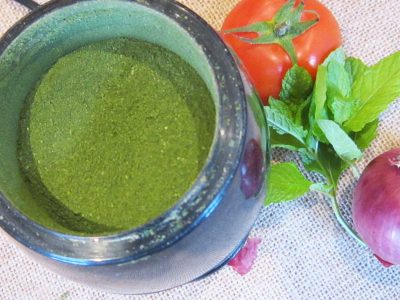 Transfer the powder to an airtight container. Use a soft paint brush to clear out all the powder residue.
Store in a cool dark place.
Tip: Cut the top off an empty plastic water bottle, about three inches from the top. Invert this and it makes a perfect funnel for transferring dried powders into bottles. I find it works better than a normal funnel because the opening is wider and does not clog up.